The innovation phase: from idea to market
presentation innovation strategy
The innovation process starts from a consumer problem and putting it to the test to end up with a validated business model. To not go through a process, will cost your company valuable time and money. First, find your customer, then create the product. Not the other way around.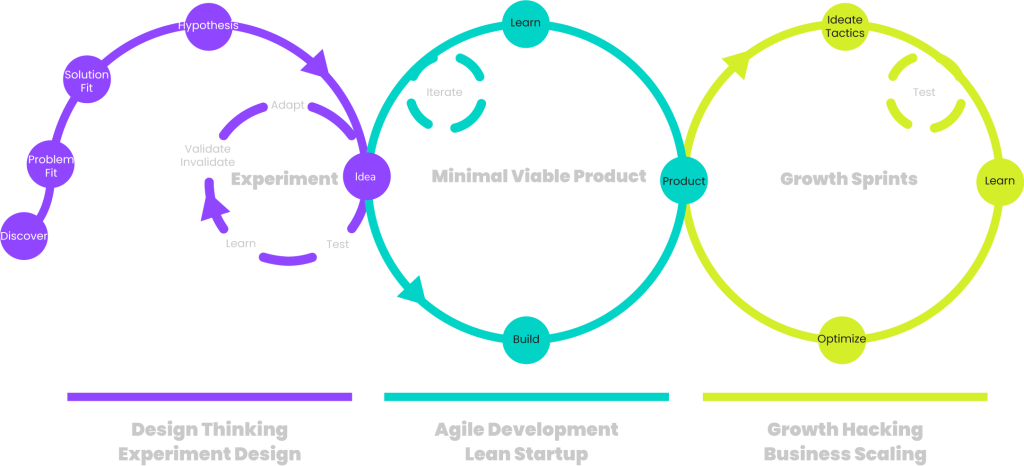 If you are looking to run an innovation project, you need an insider leading your project. An intrapreneur! Someone who challenges the status quo with an entrepreneurial spirit.
Map out a timeline and process that guides your team(s) to a favorable outcome: validating or invalidating a 
business model
. For this, you need an innovation strategist.
To proceed you will need to investigate and understand market trends, the business industry and macroeconomics around your business challenge.
To identify an initial customer segment, define a 
persona
 and 
customer journey
. This will help you understand your consumer, and gives your challenge direction.
With problem fit, we validate the customer segment, and their pains and gains around the problem your business is solving. Complete your persona's and customer journeys. Through experimentation, the 
persona
 and 
customer journey
 is validated. The 
value proposition
 is analyzed and thoroughly validated with your consumer.
A best practice KPI can be, if 45% of your target segment acknowledges these pains and gains exist, you have a validated customer problem.
Now the problem is defined and validated, it is time to work on a solution. In this phase, you are going to 
define the value
 you are bringing to customers by designing actual solutions. Start wire-framing, or create a minimal viable product.
Validate your solution with your target audience, and adapt where necessary. If 40% of your target segment would be unhappy without the solution, claim it to be validated. Keep your solution simple, stupid. In the growth phase, you can still expand your services.
The best guide to validate market fit is through experiment design. With your solution in hand, take it to the market by performing small tests. This can be from going out on the streets with your wireframes, to running a Facebook ads campaign pointing at a landing page explaining your product.
Find out if users would repeatedly use your solution and recommend it to others. An important metric here is retention. Users need to come back to your product and be sad if they would lose the service. Ending this phase, you should have a validated 
business model
 and a go-to-market plan for your new solution which you are now going to create. If your idea is not validated, take it back to the drawing board.
It is really exciting to take your idea to the market. Start by onboarding the consumers you first contacted to validate your solution. They are ideal first customers. To build a scalable startup, you need a sustainable business model and survive by getting customers.